Leggi questo articolo in Italiano
Two times till now I wrote in a comment this thing about dying young, and both times it was about a John Green's novel – the only two novel of this writer I read for now, I honestly hope his other works being more happy.
The former I read is the well-known "The fault in our stars" that takes the title by a Shakespeare quote:
The fault, dear Brutus, is not in our stars,
But in ourselves, that we are underlings.
and that is being the inspiration for a movie that will soon come out; the latter is "Looking for Alaska" that in this case is not the State but a girl and that it should be read before "The fault in our stars".
When I read them – but this reflection mainly concerns the former one – my review was enthusiastic (the review is the one below, only little bit less passionate than the original version), but after some time I began to think that maybe it's a clever book that plays on emotions and empathy, so my whole opinion could be reviewed.
The fault in our stars by John Green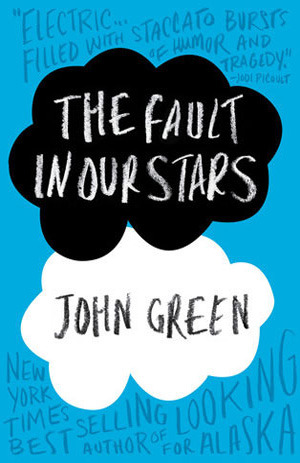 When you are young people use to say that you have all your life ahead, and then you think of an infinite of possibilities, meets, friendships, loves and satisfactions, since you don't quantify at all the life remaining and death it's painful, dark and very far away.
Hazel and Augustus know that it's not like this for them, they know how fragile is what keep them alive.
It's a good novel that speaks about cancer without pity, about the death that leaves the living with memories and thoughts about the world without them, and the death of young, that is way worst, leaving parents without their children.
It speaks about love, and about the inconsolable void left by the loved one when he leaves.
It speaks about three children who love reading, play video games and have fun with a cynical and sarcastic humour.

Looking for Alaska by John Green

Miles "Pudge" starts a new year in a boarding school in Alabama where he becomes a friend with some people, among whom there is Alaska with her changing nature: cheerful or introspective and gloomy.
Each chapter corresponds to a strike of the slow cont-down towards the moment of transition after which everything will change for the characters.

It's a very well written ya novel, the only critic concerns the characters that are all cultured, smart, introspective and so on (maybe they are too much). The novel deals with the difficult theme of the death of young people who is quite dramatic:
When adults say, "Teenagers think they are invincible" with that sly, stupid smile on their faces, they don't know how right they are. We need never be hopeless, because we can never be irreparably broken. We think that we are invincible because we are. We cannot be born, and we cannot die. Like all energy, we can only change shapes and sizes and manifestations. They forget that when they get old. They get scared of losing and failing. But that part of us greater than the sum of our parts cannot begin and cannot end, and so it cannot fail.
Unfortunately for Green I've already read his "The Fault in Our Stars" and the comparison does not help this novel.
________
* The fault in our stars by John Green ★★★☆☆½
* Looking for Alaska by John Green ★★★☆☆
*I read this book in English