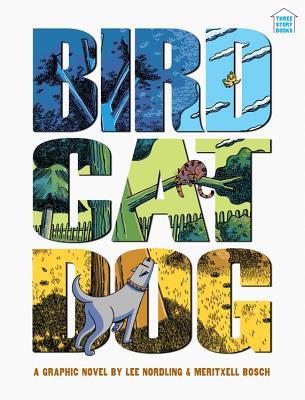 Un fumetto in cui le strisce in alto ci raccontano la storia di un uccellino, quelle in mezzo di un gatto e quelle più in basso di un cane.
Le storie possono essere seguite singolarmente, oppure si può scegliere di leggere il fumetto come un libro normale (guardando tutta la pagina), in questo modo si vedrà come i tre singoli protagonisti interagiscano e abbiano una rilevanza anche nelle storie altrui: ognuno è protagonista della propria storia, ma la sua presenza influenza anche quelle degli altri.
Il fumetto è molto gradevole, le singole vignette sono quasi fotogrammi che compongono le singole vicende, un esperimento interessante.
Ringrazio l'editore per avermi fornito la copia necessaria per stendere questa recensione.
_______
In this comic the top strip is about the story of a bird, the middle one of a cat and the bottom strip is about the story of a dog.
The reader may choose to read each single story, or to read the comic as any other book (looking at the whole page), this way it will be clear how each single story influences the others: everyone is the main character of his own story, but his presence influences other lives, too.
The comic is nice, each single image is like a frame of a movie, an interesting experiment.
Thanks to the publisher for providing me the copy necessary to write this review.
_______
Birdcatdog by Lee Nordling ★★★★☆