L'estate è un genere di lettura a parte: personalmente è il momento dei gialli ma anche di letture più leggere, senza impegno.
Di seguito il commento a due romanzi leggeri per adolescenti, niente di drammatico, un paio di storie d'amore per sopravvivere al caldo estivo.
My Life Next Door by Huntley Fitzpatrick
The Summer I Became a Nerd by Leah Rae Miller
Non confondiamoci, non sono dei capolavori, però possono far passare qualche ora di meritato svago.
Quello che c'è tra noi by Huntley Fitzpatrick
Il romanzo presenta un confronto tra due famiglie profondamente diverse: da una parte i Reed, madre single maniaca della pulizia con due figlie adolescenti, la maggiore più ribelle e la minore più accomodante; dall'altra parte dello steccato i Garretts, genitori con otto figli dalle età più disparate, chiassosi e disordinati.

Samantha Reed, appassionata osservatrice dei Garret dal suo tetto, conoscerà Jase Garrett con cui inizierà una storia, il tutto contornato da fratelli particolari e amici problematici.

Il romanzo è sostanzialmente l'evoluzione della storia d'amore tra Sam e Jael fino a un punto di svolta che introduce alcuni dilemmi morali e etici e che risolleva da un racconto che tendeva a diventare ripetitivo.
Molti personaggi, alcuni caratterizzati meglio di altri che fanno solo brevi apparizioni, nel complesso un romanzo carino, rilassante.
The Summer I Became a Nerd by Leah Rae Miller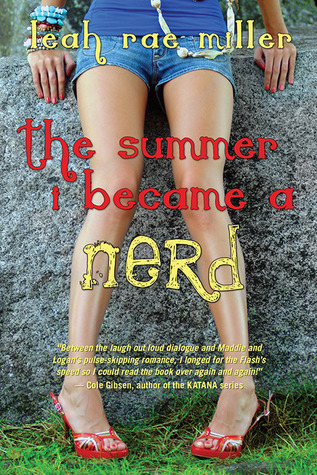 Una storia carina, decisamente scontata. Maddie ama fumetti & altre cose nerd (come è possibile non amarle, mi chiedo) ma teme il giudizio degli altri amici monodimensionali in personalità, per questo si adegua ai comportamenti la possono rendere popolare. L'incontro con Logan nel negozio di fumetti cambierà l'imminente estate.

I personaggi non sono approfonditi e la maggior parte dei capitoli sono deditati alle riflessioni di Maddie sulla bellezza dell'essere sè stessi (punto principale di riflessione prosporto in ogni modo possibile).

Il romanzo scorre velocemente ma lascia ben poco dietro di sè (forse perchè sono nerd inside e non vedo niente di sconvolgente nell'esserlo, anche se è più probabile che il romanzo sia sul superficiale andante).
_______
* Quello che c'è tra noi by Huntley Fitzpatrick ★★★☆☆
* The Summer I Became a Nerd by Leah Rae Miller ★★☆☆☆

*Ho letto questo libro in Inglese