Leggi questo articolo in Italiano
Regarding this series, now at the third volume (that I recently finished reading), I decided to trash the single review I made for the former two books in order to prefer a more general opinion about the series and the author.
Above there is one of the illustrations that introduce each chapter, splendid black and white drawings made by Ana Juan.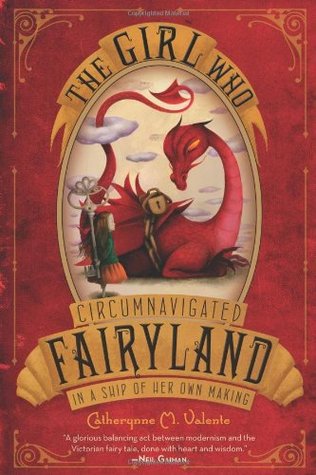 The novels published till now are:
The Girl Who Circumnavigated Fairyland in a Ship of Her Own Making
The Girl Who Fell Beneath Fairyland and Led the Revels There
The Girl Who Soared Over Fairyland and Cut the Moon in Two
The main character is September, a young girl growing up during the series who lives in Omaha. Due to a war her father is away from home as a soldier and her mother works at the armaments factories.
At twelve September discovers for the first time the existence of Fairyland, a magical world where she will meet strange and marvelous creature, friends and foes: in particular two will help her during her trips, A-through-L, a wyvern and Saturday, a marid.
The novels are not completely separated adventures; after the conclusion of an issue its effects grows till their manifestation in the next novel, bringing September new problem to solve to make again Fairyland a beautiful place to live.
It's interesting  the fact that September grows up in the time span between two Fairyland trips (and two novels) and for this reason her behaviours and perspective changes in function of her age and her feeling more or less grown-up.
In this series numerous characters taken from myths and legends from different cultures and communities; as in other novels and the author displays her knowledge of mythical and magical beings that are located in Fairyland.This is also supported by the writing style, always neat and wonderful that comes out also in the character's naming (e.g. Turing the Tyguerrotype)
Catherynne Valente novels always leave me fascinated for the beautiful writing style, but sometimes – here for example – they leave me the doubt that they do not have much content to support them (trivialized: very well written but content meh), a consideration I already expressed in my comment to The Melancholy of Mechagirl.
There is a lot: characters, meetings, situations, choices, but I felt lost at the beginning of the third novel since I did not remember much of the previous two, despite having liked both of them.
_______
* The Girl Who Circumnavigated Fairyland in a Ship of Her Own Making by Catherynne M. Valente ★★★★☆
* The Girl Who Fell Beneath Fairyland and Led the Revels There by Catherynne M. Valente ★★★★☆
* The Girl Who Soared Over Fairyland and Cut the Moon in Two by Catherynne M. Valente ★★★★☆

*I read this book in English