Leggi questo articolo in Italiano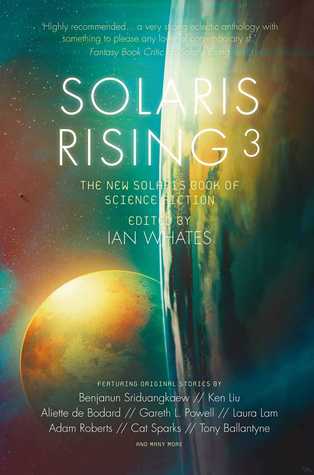 Solaris Rising 3 is a collection of science fiction stories; they are not related under a specific theme. The stories in fact goes from military science fiction to weird with various sets.
Overall I liked only some of the stories: Double Blind by Tony Ballantyne for the distressing atmosphere, Red Lights, and Rain by Gareth L. Powell for the fast action, They Swim Through Sunset Seas by Laura Lam for the story and the narration and Endless by Rachel Swirsky for the idea and the general atmosphere of the story.
Also The Goblin Hunter by Chris Beckett,  Popular Images from the First Manned Mission to Enceladus by Alex Dally MacFarlane and Faith Without Teeth by Ian Watson are likeable stories.
The remaining ones are absolutely forgettable, among them Homo Floresiensis by Ken Liu is nice but the ending is quite weak (I was disappointed, usually Ken Liu's stories are very nice).
Thanks to the publisher for providing me the copy necessary to write this review.
_______
* Solaris Rising 3 by Ian Whates ★★☆☆☆½
*I read this book in English