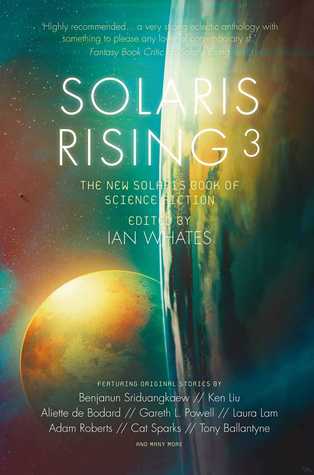 Solaris Rising 3 è una raccolta di racconti di fantascienza non legati da un particolare comune denominatore. I racconti spaziano infatti dalla sf militare al weird con ambientazioni diversificate.
Nel complesso solo alcuni racconti mi sono effettivamente piaciuti: Double Blind di Tony Ballantyne per l'atmosfera angosciante, Red Lights, and Rain di Gareth L. Powell per l'azione serrata, They Swim Through Sunset Seas di Laura Lam per storia e narrazione e Endless di Rachel Swirsky per idea e atmosfera.
Gradevoli anche The Goblin Hunter di Chris Beckett,  Popular Images from the First Manned Mission to Enceladus di Alex Dally MacFarlane e Faith Without Teeth di Ian Watson.
I restanti racconti li trovo assolutamente dimenticabili, tra questi Homo Floresiensis di Ken Liu è gradevole ma ritengo il finale troppo debole (peccato, di solito i racconti di questo scrittore sono una certezza).
Ringrazio l'editore per avermi fornito la copia necessaria per scrivere questa recensione.
_______
* Solaris Rising 3 by Ian Whates ★★☆☆☆½
*Ho letto questo libro in Inglese