Leggi questo articolo in Italiano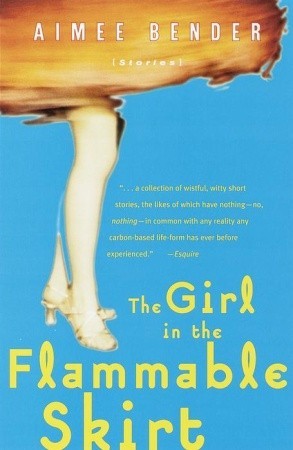 The girl in the flammable skirt is a collection of stories by Aimee Bender, published when the author was nineteen years old – something I think it should be mentioned, since the book does not seem written by a young beginner.
The stories can be connected to the magic realism genre, for the stories elements and situations like the mutant girls with the hand of fire and ice, the ruby ring with magical proprieties, the man who wakes up with a hole in his belly, …
The thing that group the stories is the fact they have as main character mostly young women in search of something to fill their dissatisfaction: the stories are marked by a slightly melancholy the characters try to face, so a girl spends her day in evaluating men, another in trying to find out if it's still possible for her to love her husband, and a librarian give herself to the library customer to forget her father's death.
Some of the story are more easy to remember respect to others, overall the book in my opinion works thanks to the dissatisfaction theme that is above each story. The reader then remembers the emotive impression the collection made more than each single story.
_______
* The girl in the flammable skirt by Aimee Bender ★★★☆☆½
*I read this book in English