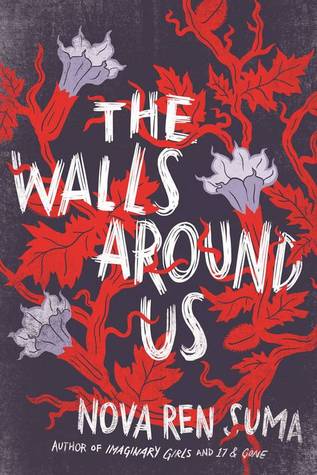 The walls around us è un romanzo a due voci che si alternano per narrare la propria storia: da una parte Violet, giovane ballerina in procinto di raggiungere New York e il successo, dall'altra Amber, ospite da tre anni nell'istituto di correzione giovanile Aurora Hills. In comune tra le due solo una persona, Ori, anche lei ballerina e anche lei incarcerata per un efferato omicidio.
Mentre Violet ci parla del suo futuro e riflette su quanto accaduto ad Ori, sua migliore amica fino al tragico giorno, Amber si divide tra il ricordo del suo passato (un patrigno violento, una madre che non voleva vedere) e la sua vita a Amber Hills, i rapporti con le altre carcerate e il ricordo della magica notte di Agosto in cui le porte si sono magicamente aperte senza guardie all'orizzonte.
Man mano che si avanza nella lettura ci si rende conto che molto di quello che ci viene raccontato è ingannevole, ed è una bella prova di narratore inaffidabile, perché tra chi mente, chi vorrebbe che il passato avesse preso un corso diverso, chi non ricorda o ha deciso di dimenticare, il vero corso degli eventi sarà chiarito solo sul finale. I personaggi sono ben sviluppati e la loro confusione – volontaria o meno che sia – è credibile, e direi che è anche una delle leve (oltre allo stile, che mi è piaciuto) che rende interessante una storia che altrimenti raccontata potrebbe risultare banale.
E' un racconto di vite interrotte, che cercano nel loro passato la molla che le ha portate negli anni al gesto fatale e al carcere, di ragazze che cercano di ottenere quella giustizia negata nei tribunali che hanno posto invece muri intorno a loro.
Ringrazio l'editore per avermi fornito la copia necessaria per stendere questa recensione.
_______
In The walls around us two voices tell their story: on one side Violet, young ballerina who has almost reached New York and fame, on the other Amber, convict since three years in the Juvenile Correction Institute Aurora Hills. They have in common only one thing: Ori, also a ballerina and also a convict for a bloody murder.
While Violet tells about her future and reflects on what happened to Ori, her best friend till the tragic day, Amber speaks about her past (a violent stepfather, a mother who did not want to see) and her life in Amber Hills, the relation with the other girls there and the memory of the one magic August night when the lock bust open without Conviction Officers around.
Going on reading we understand that much we are told is not quite the truth, and the novel is a good example of unreliable narrator, because, among the one who lies, who want the past to have taken a different course, who forgot or chose to forget, the true course of events is clear only at the end. The characters are well-developed and their confusion – true or faked – is believable and it is one of the forces (in addition to the style that I liked) that makes this story interesting.
It's a tale of interrupted lives, who are searching their past for the impulse that brought them to the extreme action and to the conviction, of girls who want to obtain the justice denied in the courts that posed these walls around them.
Thanks to the publisher for providing me the copy necessary to write this review.
_______
The Walls Around Us by Nova Ren Suma ★★★☆☆