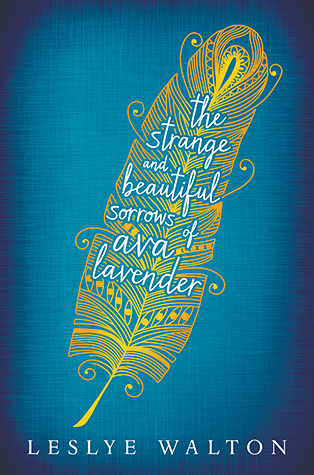 Ava nasce con un meraviglioso paio di ali, completamente collegate e integrate al suo corpo, impossibile rimuoverle chirurgicamente; Ava ha anche un fratello gemello, Henry, che preferisce non parlare e non essere toccato. Sono due bambini particolari, e la loro stranezza risale nelle generazioni fino alla bisnonna francese, fino a prima dell'immigrazione in America.
La voce di Ava ci accompagna nella storia della famiglia, tra una bisnonna silenziosa, la nonna Emilienne che porta sulle spalle il dolore dei fratelli e sorelle che l'hanno lasciata, e la madre Viviane, sofferente per un amore non corrisposto; tutti i componenti della famiglia hanno però delle capacità particolari, come se la particolarità, la magia, si sia accumulata nel corso del tempo fino a sfociare in Ava.
Oltre a ricostruire il passato (come impostazione mi ha ricordato Middlesex) Ava racconta anche del suo presente – l'infanzia vissuta in casa, l'iperprotettività della madre per il suo essere diversa, le rare amicizie -, e in particolare di un evento che segnerà la sua crescita.
The strange and beautiful sorrows of Ava Lavender è un romanzo molto intenso, in particolar modo nella parte conclusiva, in cui è facile affezionarsi ai personaggi principali e alle loro stranezze, spesso contrapposte con la brutale normalità delle persone comuni.
_______
Ava is born with a pair of beautiful wings, attached to her body and impossible to be removed surgically; Ava has also a twin brother, Henry, who prefers not to talk and not to be touched. They are a couple of peculiar child, and their weirdness comes from back in time, from their French great-grandmother, before her immigration to the USA.
Ava's voice bring the reader into the story of her family, from her silent great-grandmother, to Emilienne, Ava's grandmother, who brings the sorrow of her brother and sisters who left her, and Ava's mother, Viviane, suffering for a unrequitted love; all of them have something strange skills, and it's like this weirdness, this magic, accumulated till the born of Ava.
The novel is not all about the past (the structure in this sense reminds me of Middlesex), Ava tells also the story of the present time – her childhood lived at home, her mother being protective for Ava strangeness, her few friends – and of a specific and dramatic period of her life.
The strange and beautiful sorrows of Ava Lavender is an intense novel, mainly in the ending part, and it's so easy to like the main characters, so strange but so different from the brutal normality of common people around them.
_______
The strange and beautiful sorrows of Ava Lavender by Leslye Walton ★★★★☆