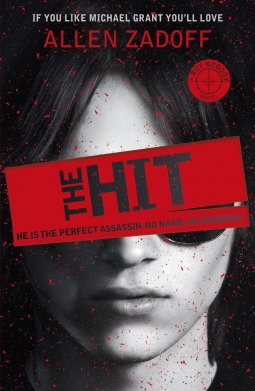 "The hit", pubblicato anche come "Boy nobody" e "I am the weapon", è il primo romanzo della serie The Unknown Assassin. Protagonista è Zach, un ragazzo inserito fin da bambino all'interno del Programma che ha l'obiettivo di creare assassini perfetti che possano difendere la nazione dai traditori. Il perchè debbano essere ragazzi è semplice: il contatto con il figlio del bersaglio è più facile e in breve tempo il killer può inserirsi nella realtà del bersaglio e portare a termine la missione.
Zach è un elemento impeccabile, passa agilmente da una missione alla successiva senza mai sbagliare il colpo: una missione però lo metterà in seria difficoltà, fino a fargli mettere in dubbio passato e obiettivi.
Il romanzo è in prima persona, e come lettori abbiamo un filo diretto con Zach e ne possiamo apprezzare le doti calcolatorie, la capacità di adattarsi a situazioni inaspettate e gli effetti dell'addestramento ricevuto. L'uso della prima persona – e quindi la visione degli eventi attraverso gli occhi di Zach – è il punto di forza del romanzo, molto avvincente e ricco di colpi di scena. Non è certamente perfetto, personalmente ho trovato alcuni dialoghi poco realistici e forzati a favore della trama, comunque ritengo "The hit" un buon romanzo, capace di fornire diverse ore di intrattenimento: c'è l'azione, ci sono i gadget da agente segreto, gli smarphone con le modifiche software, cosa si può desiderare di più?
Ringrazio l'editore per avermi fornito la copia necessaria per stendere questa recensione.
_______
"The hit", published also as "Boy nobody" e "I am the weapon", is the first novel of The Unknown Assassin series. The main character is Zach, a boy who – since childhood – belongs to the Program, an organization that trains children into perfect killers to punish the traitors of the nation. The reason they are children is simple: child have more easily access to the target daughter and sons, and consequently to the target itself.
Zach is a flawless element in the Program, he goes from a mission to the following one without errors: it's time for him to face a mission that will cause him serious troubles and to doubt his life and objectives.
The novel is told in first person, and thus the reader have a direct connection with Zach and can appreciate his calculating skills, his ability to adapt and the effects of the training he received. The decision to narrate the story in first person is the strong point of the novel, engaging and full of turn of events. It's not a perfect novel, I think some of the dialogues quite unrealistic and plot driven, however "The hit" is a nice novel, able to provide some hours of entertainment: there is action, there are technological and secret agent gadgets and the smartphones with cracked software, who needs more?
Thanks to the publisher for providing me the copy necessary to write this review.
_______
The Hit by Allen Zadoff ★★★☆☆