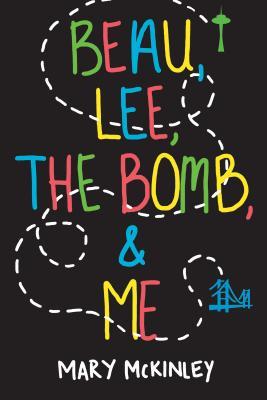 Una recensione che è un po' anche un rant. Perchè il romanzo non l'ho finito, mi sono incavolata prima (direi entro le prime 30 pagine per essere precisi), perchè tu, scrittore, puoi sentire il dovere di rendermi consapevole di un po' quello che ti pare, che siano unicorni a pois o raccontarmi dell'emarginazione dei diversi, però se vuoi la mia attenzione devi scrivere in modo decoroso, o quantomeno leggibile.
Perchè per quanto bello il messaggio (in questo caso chi può dirlo?), il messaggio in sè non basta: va trasmesso in modo che piaccia, e evitando possibilmente l'esaurimento nervoso del lettore (questo ovviamente genera anche il problema opposto: la Valente scrive benissimo ma non sempre arrivo al messaggio, tanto da chiedermi se esista qualcosa al di sotto del bellissimo stile).
In "Beau, Lee, The Bomb & Me" la storia la racconta la protagonista cicciottella e vessata dai compagni di classe, almeno fino al giorno dell'arrivo di Beau, che ha tutte le potenzialità di essere vessato perchè gay (lo è? appare e basta? Who knows, sono arrivata solo a pag 30).
Rylee, oltre a essere fuori forma, ha il difetto di vivere tutto come se la vita fosse una costante sorpresa, immagino derivi da questo l'abuso – estremo, irritante – dei punti esclamativi. Non penso che nessuno viva la propria vita così sopra le righe, ma sono invece sicura dell'irritanza della punteggiatura messa a caso.
Mi si potrebbe dire: perdonala, non sapeva quello che faceva, voleva mettere solo un po' di euforia nella sua vita, e in effetti in passato ho perdonato l'incauto traduttore di Dirk Gently, a cui do tutta la colpa per la numerosità delle affermazioni: romanzo finito, anche se lo ricordo ancora per quanto era orrendo da leggere. E invece no! Perchè Rylee, oltre a essere dotata dell'euforia dell'esclamazione, ha un altro, enorme, difetto: parla come messaggia, ebbene sì. E quindi ci troviamo a leggere interi dialoghi di OMG, LOL, (oltre agli innumerevoli Dude) insopportabili e senza senso (ma chi diamine parla così?).
Oltre a queste piaghe, sufficienti per scoraggiare il lettore esigente, Rylee spazia tra presente, passato, ricordi di angherie subite, aneddoti e gossip senza alcuna linearità, onde confondere definitivamente il lettore che, ormai disperato, spegne il kindle e rinuncia: si tratta in fondo di uno ya contemporary, se ne trovano a bizzeffe e di migliori, quindi perchè volersi male? Come non mai vale il diritto di abbandonare il libro.
Ringrazio l'editore per avermi fornito la copia necessaria per stendere questa recensione.
_______
A review that is also a rant. Because I did not finish to read the novel, I get angry way before (approximately about page 30), because you, the writer can feel the desire to make me aware of whatever you want, it being unicorn with polka dots or people being outcasted,but if you want my attention you have to write well, or at least passably well.
Because despite how meaningful is the message (here I will never know), the message in itself is not enough: it has to be told with skill and maybe avoiding a nervous breakdown of the reader (this reasoning led also at the complete opposite: Catherynne Valente writes so well but not always I'm able to get the message, so I'm wondering about it existing at all below the beautiful writing style).
In "Beau, Lee, The Bomb & Me" the story is told by Rylee, the fat protagonist who has to survive her bully schoolmates, at least till the arrive of Beau, who has the potentiality to be the new vexed kid since he is gay (is he? who knows, I got only to page 30).
Rylee, is not in shape, but her greater fault is her living her life as it is a constant surprise, I suppose this is the reason of the extreme, irritating abuse of exclamation marks. I do not think anybody is able to live so above the lines, but I'm certain that punctuation marks used randomly is irritating.
You could say: forgive her, she did not know what she was doing, she wanted some excitement in her life. And in the past I almost forgave careless "Dirk Gently" translator, who I give all the blame for the exclamation amount in the novel, I finished to read the novel, but I still remember how awful it was to read. But in this case it's impossible because Rylee has another, huge, fault: she talks as she writes SMS. And so the novel is full of dialogues with OMG, LOL (lots and lots of dude) unbearable and without any meaning (who talks like that?).
These being not enough, Rylee talks about the past, the present, about gossip and pranks without any kind of linearity, in order to completely confuse the reader who shuts down the reader and gives up: it's a contemporary ya, not the first nor the last and there are better ones to read, so why hurt ourselves? The reader has the right to not finish a book, and I exercise it.
Thanks to the publisher for providing me the copy necessary to write this review.
_______
Beau, Lee, The Bomb & Me by Mary McKinley  ★☆☆☆☆