Dal 2013 The martian stava quieto nel mio kindle: questo romanzo indie ha fatto in tempo a diventare famoso e ad essere opzionato per un film (regista Ridley Scott) prima che mi saltasse agli occhi.
_______
Since 2013 The Martian was quiet in my kindle: it had time to become famous, to be chosen to become a movie (director Ridley Scott) before I noticed it.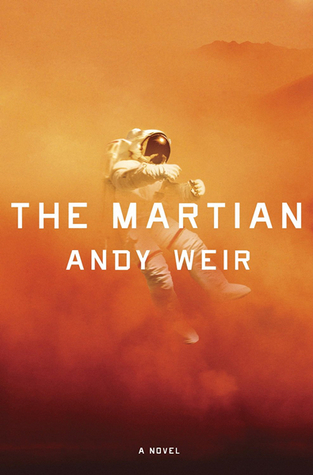 The Martian
The martian è stato una grande scoperta – che denota anche la mia lungimiranza negli acquisti libreschi; la storia di Mark Watney, astronauta creduto morto ma invece abbandonato per errore vivo su Marte, non può non risultare appassionante.
La storia è ben costruita: il lettore ha modo di seguire i progressi di Watney tramite i log che registra sul computer a disposizione, ma anche quanto avviene alla NASA e su Hermes, su cui stanno tornando i compagni di missione di Mark.
E' uno degli esempi più palesi di hard science fiction: Mark non tralascia dettagli tecnici nei suoi log, e lo seguiamo mentre modifica la strumentazione a sua disposizione per sopravvivere. Il lettore avrà modo di conoscere nel dettaglio ossigenatori, regolatori d'aria, tecniche di coltivazione su Marte e così via. La bravura dell'autore sta proprio nel rendere il romanzo, così dannatamente tecnico, incredibilmente avvincente.
Mark è un personaggio ben riuscito, capace di affrontare una situazione disperata con il giusto ottimismo e spirito, ed è affiancato da personaggi relativamente minori (il romanzo in molte parti è praticamente un lungo monologo del protagonista) ma comunque ben caratterizzati (forse alcuni dei meno riusciti sono alcuni membri della missione Ares 3, anche a causa del poco spazio concesso).
Non è un romanzo perfetto, alcune parti entrano troppo nei dettagli tecnici per essere apprezzate appieno, ma è comunque una storia che tiene attaccati fino all'ultima pagina, che commuove e che ci parla anche del bello dell'umanità: la spinta verso la scoperta scientifica e quella per aiutare un altro essere umano in una situazione disperata.
_______
The martian was to me a great discovery – which denotes my foresight in book purchase; the story of Mark Watney, astronaut believed death but instead left alive by mistake on Mars, is very thrilling.
The story is well-built; the reader follows Watney's progress by the log he writes or records in the available computer, but also he is able to follow what happens at the NASA and on Hermes, the spaceship where Mark's crew mates are coming back to Earth.
This is one of the most obvious examples of hard science fiction: Mark does not omit technical details in his logs, and we follow him while he makes modification to the available instruments. The reader will come acquainted with the oxygenator and air regulator, with agricultural techniques on Mars and so on. Andy Weir's skill is making so engaging such a technical novel.
Mark is a character that works, able to face a desperate situation with optimism and humor, and he is surrounded by minor characters (the novel in some parts is like a long main character monologue) that are well built (a part from some of the Ares 3 mission crew mates, mostly for the few space they have).
It's not a perfect novel, sometimes it goes too deep in technicalities to be fully appreciated, but it is a page turner, able to move the reader, that talks also about the good about humanity: the drive to the scientific discoveries and the one to help another human being in a desperate situation.
_______
The Martian by Andy Weir ★★★★☆