Leggi questo articolo in italiano
---
By V.E. Schwab I already read Vicious that stands out for originality and for detaching from the YA standard, proposing complex characters that were impossible to tag as either good or bad. 
A Darker Shade of Magic is the first book of the trilogy that has the same name, set in part in our London and in part in parallel universes. Four the spatial setting that could me made apart by the amount of magic they allow and by the predominant colour of the environment, like the main character does: the world closer to magic is Black London, that is also the one impossible to travel to, since it was isolated after magic began devouring the inhabitants, the second one is White London, where everyone looks for some magic to dominate, and ruled by a couple of powerful, ambitious and violent twins. Red London is Kell's home and it's a place where magic is in balance with the people who uses it, the last is Grey London, our world, where there is no magic at all.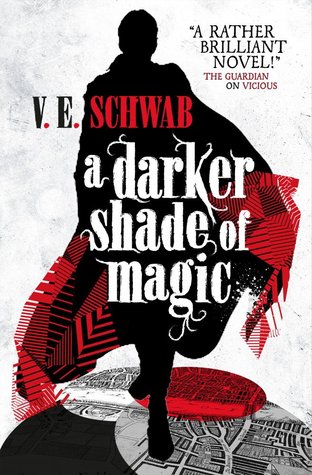 Kell, the main character, belongs to a died out race of people able to use blood magic, so powerful it allows to travel among the four worlds, impossible for common people. Kell has also the bad habit of exchanging objects among the worlds to get nice trinkets he collects, violating the rules that forbid to take objects from a world to the others. And for this bad habit Kell will get a black stone, magical and powerful, coming from Black London and desired by different people for its power.
The only solution seems to sent back the stone from the world it belongs to, but it will not be easy, despite Kell is helped by Lira, thief, assassin without fear and coming from the only magic-less world.
V.E. Schwab confirms herself as an original writer, the novel is engaging and the events cover a short time span and the rhythm is fast-paced. Both the main characters are likeable and interesting, and they exchange some funny dialogues, too. I'm awaiting for the second novel of the series. Ah, also the cover graphic is extremely nice.
---
* A Darker Shade of Magic by V.E. Schwab ★★★★☆

*I read this book in english