Leggi questo articolo in Italiano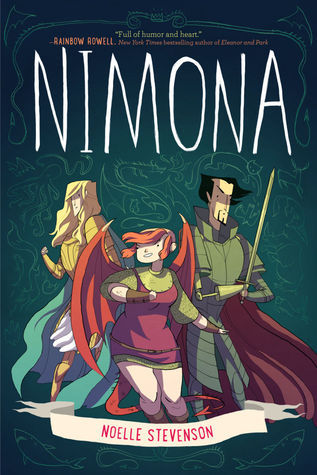 Lord Ballister Blackheart is a super villain, and his enemy is Sir Ambrosius Goldenloin and the "Institution of Law Enforcement and Heroics".
One day Nimona appears in his laboratory, she is an adolescent shape-shifter who wants to be his assistant and who will show Lord Ballister new degree of evilness and boldness.
Nimona's arrival – and her complex character and past – is the force that will call into question the idea of good and evil, by allowing Ballister and Ambrosius other character side surface.
This graphic novel is different things: it's fun, but it also talks about uncertainties and the sensation to be different and excluded. The story starts from a consolidated model – heroes, the good, the evil – that soon is made more complex, and the characters more human and true.
I noticed it on the web, since it was born as a webcomic, then the comment on Soft Revolution convinced me to buy it, and I have to do the same: read Nimona.
_______
* Nimona by Noelle Stevenson ★★★★★
*I read this book in English