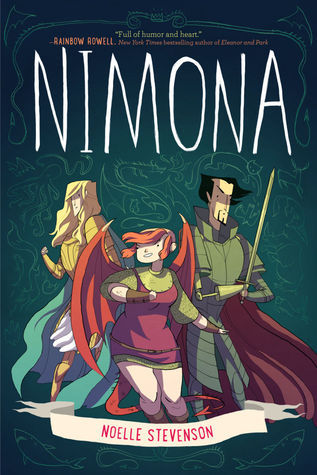 Lord Ballister Blackheart è un super cattivo, e si contrappone a Sir Ambrosius Goldenloin e  all'"Institution of Law Enforcement and Heroics".
Un giorno appare nel suo laboratorio Nimona, una adolescente mutaforma che desidera diventare la sua assistente e che si rivelerà ben più drastica in termini di super cattiveria .
L'arrivo di Nimona – dal carattere e passato complessi – sarà il motore che metterà in discussione il bene e il male, facendo emergere le sfaccettature dei due antagonisti, Ballister e Ambrosius.
Questa graphic novel è tante cose: divertente, per dirne una, ma anche capace di parlare di insicurezza e del sentirsi esclusi e diversi. La storia parte da un modello consolidato – gli eroi, il bene e il male – che però viene complicato, rendendo i personaggi più veri e umani.
Di questa graphic novel, nata come webcomic, avevo sentito parlare qui e là, poi il commento su Soft Revolution mi ha convinto al grande passo dell'acquisto (in lingua originale, ma esce da Bao Publishinga inizio 2016), e non posso che suggerirlo a mia volta.
_______
* Nimona by Noelle Stevenson ★★★★★
*Ho letto questo libro in Inglese