Leggi questo articolo in italiano
---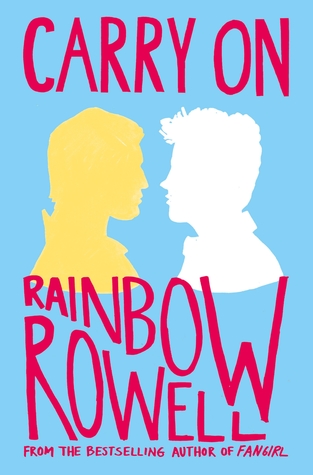 Let's begin by providing a context for this novel: in Fangirl the main characters are fond of a series of novels centered on the figure of Simon Snow (that is very similar to the Harry Potter series for setting and characters) and Cath during the novel is working on the writing of Carry On, a fanfiction volume that closes the series.
The author then decided to provide Simon Snow his own space, and so Carry On was born. The book is set into a school of magic, the Watford School of Magicks and the main characters are Simon Snow, who has an incredible but unreliable power and who was prophesied as saviour of the world of magic, his roommate and enemy Baz, rumored to be a vampire, the precise Penelope and beautiful Agatha, Snow's girlfriend.
It's impossible to avoid comparisons with Harry Potter – since the numerous analogies – even if Carry On is for a more adult public (being a slash fanfiction). It contains original elements, like the fact that spells are cast using quotes / slogan from music and movies, the character set is better assorted and takes into account diversities (Penelope is from Indian origins and not all the characters are heterosexuals) and the characters sometimes critic magic (mainly when it is used to obviate something already existing).
The issue of Carry On is the fact it wants to simulate an ending volume of a series without it existence (and it's not possible to assume the reader knows because of Fangirl), so it wants to conclude a story, but it has also to set up a worldbuild and characters, so it loses in the story and in the turns of events.
I found it very nice to read, mainly because I like the author style and I liked Fangirl very much, and on the other hand because I'm no fan of Harry Potter, so I do not end up ending shocked because of the loose retelling. Maybe it's not the perfect novel, but for me it was a nice reading time.
Thanks to the publisher for providing me the copy necessary to write this review.
---
* Carry on by Rainbow Rowell ★★★★☆
*I read this book in english