Leggi questo articolo in italiano
---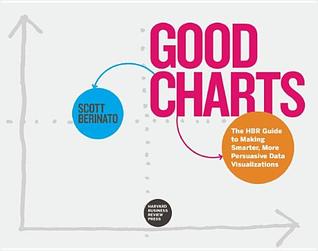 As the title suggests (Good Charts: The HBR Guide to Making Smarter, More Persuasive Data Visualizations), the book talks about charts, and in particular about how to build them both with the aim to focus the reader attention on the relevant information and without losing beauty or readability.
The author shows some practical examples and proves how the same information can have different meaning depending on how it is presented within a chart.
It is about reasoning on the data to present (which information are correlated, which data could be removed, which one have to be taken into account,…) and making the chart beautiful and easy to read (how the human eye "reads" a chart, which color and contrasts to use, …).
The book offers some useful advises in the Data Viz field – and provides also some reference about the software to use – it is a useful read for everyone who uses to deal with data, charts and information to present.
Thanks to the publisher for providing me the copy necessary to write this review.
---
* Good Charts by Scott Berinato ★★★★☆
*I read this book in english