---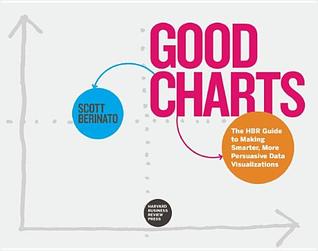 Come suggerisce il titolo (Good Charts: The HBR Guide to Making Smarter, More Persuasive Data Visualizations), il libro parla di grafici, e in particolare di come realizzarli in modo da valorizzarne le informazioni contenute, con l'obiettivo di presentare un prodotto completo e gradevole.
Il libro presenta diversi esempi pratici e mostra come una stessa informazione vada a implicare qualcosa di diverso per chi osserva il grafico a seconda di come viene presentata.
Si parla quindi di come impostare i contenuti (valutare cosa correlare, quali informazioni togliere, quali inserire,…) e come rendere esteticamente gradevole il risultato (come l'occhio umano "legge" il grafico, quali contrasti e colori usare,…).
Il libro offre molti spunti utili – oltre a suggerire strumenti operativi per la realizzazione di grafici convincenti – nell'ambito della Data-Viz, si rivela una lettura valida per chiunque maneggi dati e ne derivi informazioni da presentare.
Ringrazio l'editore per avermi fornito la copia necessaria per scrivere questa recensione.
---
* Good Charts by Scott Berinato ★★★★☆
*Ho letto questo libro in inglese