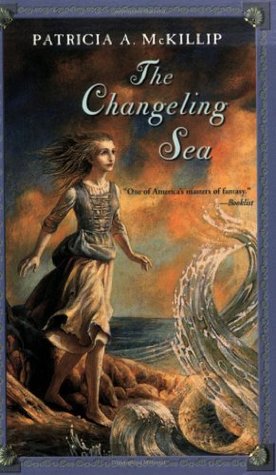 Peri vive in un villaggio vicino al mare, ma il mare lo odia perchè le ha preso il padre, pescatore, e da quel momento anche la madre non è più stata la stessa: concentrata a cercare di vedere una città sotto gli abissi ha iniziato a trascurare se stessa e la figlia.
Dal mare è invece attratto il principe, figlio del re, che sente di appartenere al popolo del mare, e, dal suo desiderio e dalla maledizione che Peri lancia agli abissi il mare inizia a rispondere: un mostro marino affiora vicino al villaggio, legato al fondale da una catena dorata.
Il romanzo parla di magia – che non è per forza di cose a capo dei maghi – di amore e dei tanti modi in cui si può affrontare una perdita – dimenticandoci di chi ci circonda, facendo leva sulla vendetta e sul rancore – finchè non si ritorna a uno stato di accettazione e di pace.

Avevo letto The Changeling Sea da bambina, e non l'avevo apprezzato come oggi, forse per lo stile narrativo molto evocativo dell'autrice (che ho gia apprezzato in The forgotten beasts of Eld e Harrowing the Dragon), forse perchè nel frattempo ho letto altre storie di miti e di changeling, forse perchè l'avevano intitolato "Una culla sotto il mare" (titolo piuttosto morbido vista poi la crudeltà del mare verso i suoi due figli).
_______
Peri lives in a village near the sea, but she hates the sea because it took her father, a fisherman, and since than also her mother was not the same again: her mind lost in trying to see the city under the water, she lost interest in herself and her daughter.
On the opposite the young prince, son of the king, struggles for the sea, since he feels he belong to the sea people, and from his desire and from Peri's hexes the sea answers: a sea dragon emerges near the village, bound to the sea by a gold chain.
The novel is about magic – that does not always belong to wizards – about love and about the ways to face a loss – forgetting the ones around us, hating and taking revenge on others – until acceptation and peace come again.

I've already read The Changeling Sea when I was a child, and I did not like it as much as today, maybe for the author's evocative narrative style (that I liked also in The forgotten beasts of Eld and Harrowing the Dragon), maybe because in the meanwhile I read other books about myths and changeling, maybe because in the past I read a translated version.
_______
The Changeling Sea by Patricia A. McKillip ★★★★☆