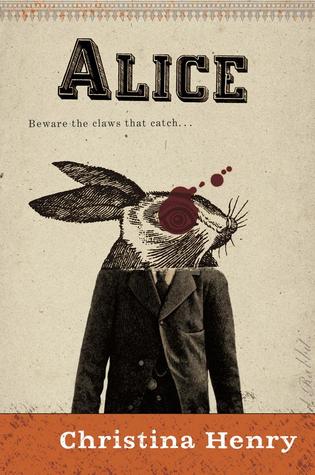 Alice di Christina Henry mette le cose in chiaro fin dalla copertina: questa di Alice non è una storia per bambini, ma assume toni cupi e drammatici.
Alice è chiusa da anni nel manicomio, impazzita per le violenze subite dopo l'incontro con il Bianconiglio, colpito all'occhio dalla ragazza come ci ricorda l'immagine.
Sotto il manicomio però si sta sviluppando una presenza malvagia, il Jabberwock, pronta a dirompere nella città; sarà compito di Alice e di Hatcher, il pazzo assassino che abita la cella accanto, quello di trovare un modo per sconfiggerla.
I due si mettono quindi in cammino nella periferia della città, territorio dominato da alcuni signori potenti e malvagi, che non esitano a imporre la loro supremazia sugli abitanti. Tra questi Cheshire, forse l'unico abbastanza ambiguo da risultare quasi un amico, il Bruco, il Tricheco e il Bianconiglio stesso.
Durante il tragitto Alice e Hatcher si trovano ad affrontare gli oscuri ricordi del loro passato e i malvagi potenti, in un percorso che forse li potrà riscattare e darà loro i mezzi per sconfiggere il Jabberwock.
Il romanzo riprende la storia di Alice nel paese delle meraviglie accentuandone i toni oscuri e dando connotazioni negative praticamente a tutti i personaggi. Alice è anche la storia di una ragazza che deve ritrovare se stessa e che compie un viaggio in cui affronta tutte le sue maggiori paure. E' una storia di amicizia e affetto tra due personaggi non convenzionali. E' avvincente e cupo e speriamo che abbia pure un seguito.
_______
Alice by Christina Henry puts the record straights starting from the cover: this story about Alice is not suited for children, but it has dark and dramatic tones.
Alice lives in an asylum since she has gone crazy after the violences committed by the White Rabbit, who instead lost an eye, as the cover reminds.
Under the asylum is growing an evil presence, the Jabberwock, that wants only to be free to spread its evil in the city; the duty to crush it will be upon Alice and Hatcher, the crazy killer inhabiting the cell beside Alice's.
The two of them begin their journey in the city suburbs, an area dominated by some powerful and evil lords, who do not hesitate in imposing their power to the population. Among them there is Cheshire, maybe the only one deceptive enough to end up helpful, and then there are the Caterpillar, the Walrus and the White Rabbit himself.
In their travel Alice and Hatcher have to face memories from their past and the powerful lords, in a journey that will maybe help them find a new purpose and the meanings to kill the Jabberwock.
The novel is a retelling of Alice in Wonderland that enhances the dark tones of the story and that gives to the most characters a negative connotation. The novel is the story of a girl who wants to find herself again and who makes a travel to face her most gruesome fears. It's a story of friendship and love between two unconventional characters, and I honestly hope it's a story that has a follow-up in another book.
_______
Alice by Christina Henry ★★★★☆½