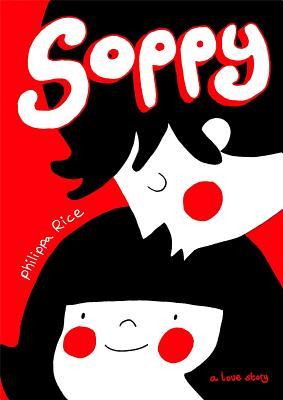 In questa graphic novel l'autrice, Philippa Rice, decide di condividere con i lettori alcune scene della sua vita quotidiana e di quella del suo fidanzato, Luke Pearson (autore della serie di graphic novel Hildafolk).
In Soppy seguiamo i due personaggi nei momenti di condivisione, di affetto ma anche nei litigi, in un vero e proprio quadro di vita di coppia.
Soppy è un insieme di vignette in rosso e nero che parlano di una storia particolare, ma in cui ogni coppia può immedesimarsi, perchè ogni coppia che funziona si litiga le coperte, condivide il divano e fa pace dopo aver litigato.
Ringrazio l'editore per avermi fornito la copia necessaria per stendere questa recensione.
_______
In this graphic novel the author, Philippa Rice, chooses to share with the readers her day by day life with her boyfriend, Luke Pearson (author of the  Hildafolk series).
In Soppy we follow the two character in moments of sharing, of love but also during fights, their life as a couple.
Soppy is a collection of red and black frames talking about a particular story, but every person belonging to loving couple can identify him/herself in the story, since every loving couple competes for the blanket, shares a couch and makes it up after a fight.
Thanks to the publisher for providing me the copy necessary to write this review.
_______
Soppy: A Love Story by Philippa Rice ★★★★☆