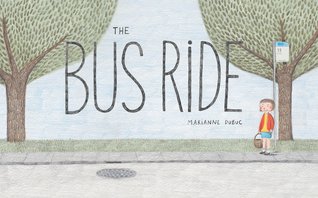 Viaggiare in bus da soli per la prima volta è un'avventura: quante personaggi strani si incontrano, e si possono anche creare delle amicizie.
La piccola protagonista prende il bus per andare dalla nonna, e questo attraversa la foresta durante il tragitto; i compagni di viaggio sono tutti animali dal comportamento umano: le illustrazioni sono divertenti e il passaggio in un tunnel buio aumenta il divertimento.
Ringrazio l'editore per avermi fornito la copia necessaria per stendere questa recensione.
_______
Riding alone in a bus for the first time is an adventure: how many persons to meet, and there is also the chance to make friends.
The children protagonist takes the bus to go to her grandmother, and the bus pass through a forest, the passengers are animals with human behaviour: the images are nice and the bus going throug a dark tunnel increases the fun.
Thanks to the publisher for providing me the copy necessary to write this review.
_______
The Bus Ride by Marianne Dubuc ★★★☆☆