Leggi questo articolo in italiano
---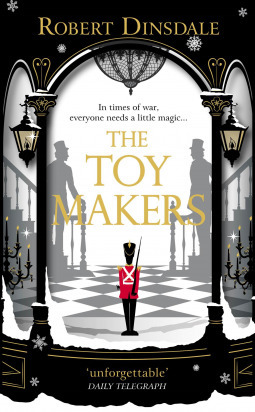 It was very hard to comment about this novel. The story begins in the 1907 with Cathy Wray, young and pregnant, escaping home to London to avoid losing her child to strangers. In London she finds work and home in the toy emporium of Papa Jack.
Papa Jack is a grumpy toy maker, able to craft wonderful toys, almost magical, compelling to every child, who see the emporium as a fantastic place to spend winter days.
Up to this point, The Toy Makers seems an innocuous story: Cathy is accepted, loved, we see beautiful games created by Papa Jack and his sons, Kaspar and Emil, both willing to contribute to the emporium activity.
But soon reality slightly creeps into this beautiful atmosphere: there are the memories of the war in Russia and the emigration to England, then the beginning of the first world war and the soldier's trauma, and the familiar disputes due to jealousy and resentment, but how much is needed to break the emporium magic?
I needed some days to decide that I liked The Toy Makers a lot: the book takes unexpected paths; the apparent lightness of the context (the magical toys, like Emil's toy soldiers) has instead more profound implications, partly determined by what happens in the world outside the emporium.
Thanks to the publisher for providing me the copy necessary to write this review.
---
* The Toymakers by Robert Dinsdale ★★★★★
*I read this book in english